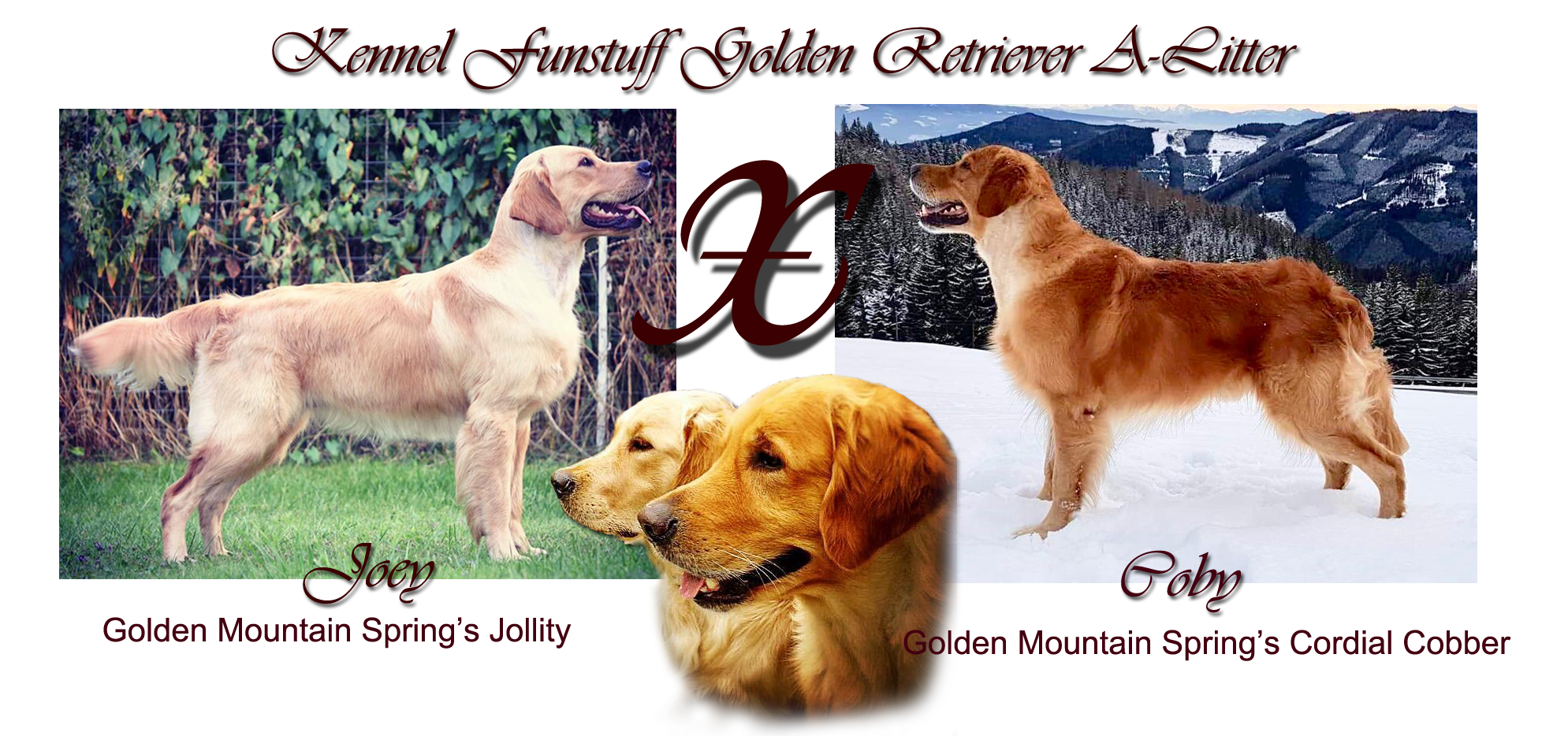 Goldens R-litter Gallery       Golden R-litter Pedigree         Golden R-litter weight table
The first Funstuff Golden Retriever litter (Funstuff Goldens R-litter) was born on 12.04.2019. The 5 boys and 3 girls are raised at Christophers place in Gurten, Upper Austria near Ried im Innkreis. It will be out of Joey "Golden Mountain Spring's Jollity" after sire Coby "Golden Mountain Spring's Cordial Cobber".
Actually we never talked about it, but when Christopher decided to have a litter of Golden Retrievers we were happy and proud that he wanted it to be under our kennel name. We all believe into this wonderful and well planned combination.
We are expecting those puppies to grow up to typical Golden Retrievers with lovely temperaments, ready to enrich the lives of their future families.
| | | |
| --- | --- | --- |
| boy, black mark | Funstuff Royal Flush "Xiru" | ÖHZB GR 8604 |
| boy, blue mark | Funstuff Return the Favour "Henry" | ÖHZB GR 8605 |
| boy, green mark | Funstuff Roll the Dice "Bailey" | ÖHZB GR 8606 |
| boy, apricot mark | Funstuff Red Sky "Sky" | ÖHZB GR 8607 |
| boy, yellow mark | Funstuff Ray of Light "Newton" | ÖHZB GR 8608 |
| girl, pink mark | Funstuff Rise and Shine "Jules" | ÖHZB GR 8609 |
| girl, red mark | Funstuff Red Carpet "Pepper" | ÖHZB GR 8610 |
| girl, purple mark | Funstuff Rising High "Roni" | ÖHZB GR 8611 |
| | | |